HSRP Number Plate and 3d Color Sticker are available at www.bookmyhsrp.com. Here you have to enter Chassis Number, Engine Number, RC Number Bharat Stage Number, Font laser code details etc. Govt of India made it compulsory to have HSRP and colour coded sticker for every vehicle various state like, Delhi, UP, Haryana ets. here you will see all the latest details related to HRP registration plate.
Ask all your question in Comments section below.
To Check in Hindi – Click Here
What is HRSP (high security registration plate) – Delhi, Haryana, Noida, UP
High security number plate is a special type of plate with numbers embossed on number plate. This number plate is stamped with a special stamp color, which cannot be erased. Along with this, there is a special laser coded number and a hologram. At the same time, information about that car is attached through laser code. For example, the engine, chassis number, owner's name and address, registration information of the vehicle. There is a special way to apply this number plate and it is difficult to remove it after it is installed.
This high security number plate is in three colors. If there is a private car, then the number will be in black on white. If there is a commercial vehicle, then there will be a number in black letters on a yellow plate for it. Apart from this, it will be green for electric or hybrid vehicles.
How to apply for HSRP in delhi – Registration
To apply for a high security number plate, one has to go to bookmyhsrp.com/index.aspx and follow the procedure mentioned below.
Step 1: Choose the option, whether you want both Number plate and Colour sticker or just colour stickers
Step 2: After this select the vehicle type
Step 3: Now, select the manufacturer of your vehicle
Step 4: Select the State in which you are applying for HSRP registration plate – UP or Delhi
Step 5: Now select the class of vehicle, whether its a private or commercial vehicle
Step 6: After selecting vehicle, you have to select fuel type of your vehicle Petrol, Diesel, Electric, CNG and CNG + Petrol
Step 7: Now comes the most important part. Here you to enter your vehicle details like vehicle registration number, registration date, engine and chassis number, e-mail and mobile number
Step 8: Once you have added all the details, click next and you will get and option to choose home delivery or Dealer option
Step 9: Now, you have to choose the Appointment date and time. Choose it from the available time slot.
Step 10: Once you submit the date and time of appointment. click next and you will get the booking summery of your HSRP Number Plate
Step 11: Now click on Confirm and submit to proceed for payment section.
Step 12: pay the registration fee as shown on the site and download the receipt for future reference.
What is Front Laser Code HSRP?
This is an alpha-number code of 9minimum 9-digits etched in the left-bottom side of the High security number plate. This front laser code is unique for each vehicle and used to link the vehicle details with owner.
What is Bharat Stage in HSRP?
Bharat Stage is the short form of Bharat stage emission standard (BSES). This is the standard made by the government of India to regulate the air pollutions coming out of vehicles.
How to Find Bharat Stage of my vehicle – Car and Motorcycle
You can find your Bharat Stage number of Car or motorcycle in your Registration certificate of vehicle commonly known as RC. Usually, it is written after the Model number of your vehicle.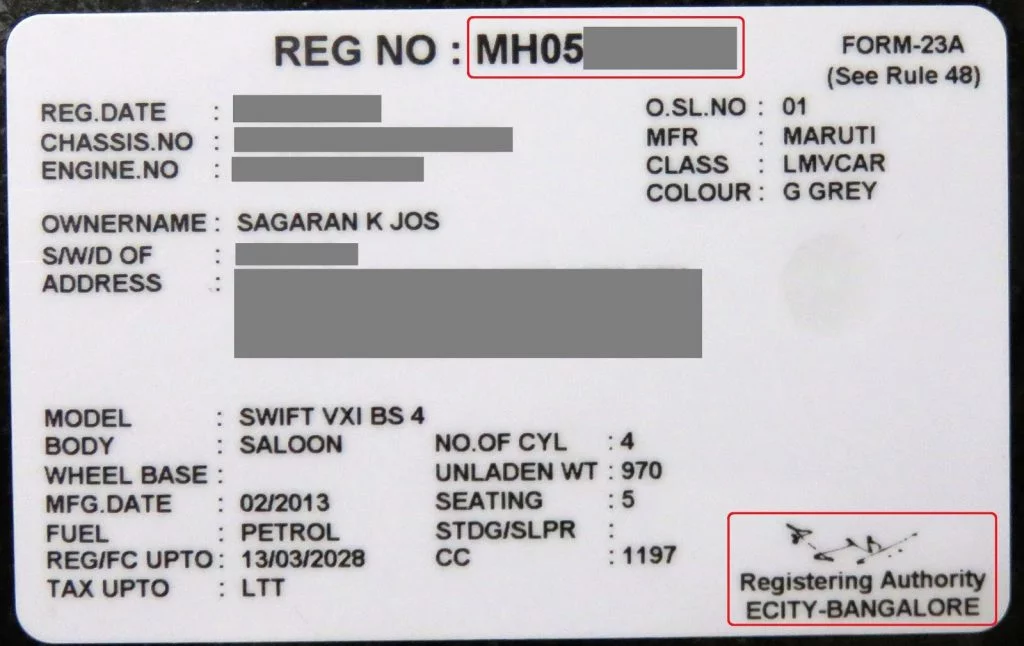 Is it mandatory to get a High Security Registration Plate fitted to my vehicle?
Yes, as per the provisions of the CMVR 1989 Rule 50, it is mandatory to have HSRP on all vehicles.
How many Class of vehicle are there as per CMVR, 1989
Following is the Class of Vehicle
| VEHICLES CLASS | ALPHA NUMERIC COLOUR | BACKGROUND COLOUR |
| --- | --- | --- |
| Non-Transport Vehicles | Black | White |
| Transport Vehicle | Black | Yellow |
| Transport Vehicle under rent-a-cab | Yellow | Black |
| Transport Vehicle under rent-a-cab (Battery Operated) | Black | Green |
| Battery Operated Vehicle Non-Transport | White | Green |
| Battery Operated Vehicle Transport | Yellow | Green |
What is Colour Coded Third Registration Plate Stickers.
Colour Coded Third Registration Plate is a self-destructive chromium based hologram sticker which is to be affixed on the inner side of left hand corner of windscreen of the vehicle.
Book my HSRP 3d Colour Sticker
| BHARAT STAGE VEHICLES . | FUEL TYPE | STICKER BACKGROUND COLOUR |
| --- | --- | --- |
| BS III and IV | Petrol & CNG Vehicles | Light Blue |
| BS III and IV | Diesel Vehicles | Orange |
| BS III and IV | Other Vehicles | Grey |
| BS VI | Petrol & CNG Vehicles | Light Blue |
| BS VI | Diesel Vehicles | Orange |
| BS VI | Other Vehicles | Grey |
Which type of details are there on Colour Coded Third Registration Plate Stickers.
The Third Registration Plate colour coded sticker bears following details
a) Name of the Registering Authority
b) Registration Number of the Vehicle
c) Laser Branded Permanent Identification Number; and
d) Date of First Registration of the vehicle.
Can I request for Only Colour Coded Third Registration Plate Stickers.
Yes, you can book for ONLY STICKER, in case you have installed the HSRP on your vehicle, you have to select ONLY STICKER option and provide the unique Laser codes printed on the left hand side bottom of front and Rear HSRP Plate installed on the vehicle.
What documents are required for booking of HSRP/Colour Coded Sticker
Not required.
Why Mobile No. and Mail ID is required to be updated at the time of booking
To provide update on Cash Receipt, HSRP at Dealer point, and OTP affixation updates
A mechanism has been created wherein SMS and Mail updates are being shared from time to time related to your order It must be ensured that correct mobile no be provided.
What is the Price of HSRP & Affixation?
It depends upon your vehicle make and vehicle class. The same will be displayed while selecting the fitment location
Can I have Option to select my convenient appointment time and location for fitment of HSRP on vehicle?
Yes
I missed my appointment date, can I re-schedule it?
Yes, you can, Re-schedule the next available date of appointment.
I have booked my order; can I have option to change the affixation location?
No
Is it possible that I can collect the HSRP and will get it fitted through my own?
No.
Is vehicle owner required to be present with the vehicle at the time of fitment or not?
Vehicle is required for affixation of HSRP and Sticker.
Any documents required while visiting for affixation of HSRP?
Yes, following are required to be presented while affixation of HSRP
a. Payment confirmation receipt
b. Registration certificate of vehicle
Whether I/we will get GST Bill as I/we am/are Registered under GST?
You are required to update GST No at the time of payment. Invoice will be provided over mail on credited of amount to our account.
I can't find my vehicle brand (OEM) for ordering HSRP
You can only book for those vehicles whose brand names are displayed in the web screen. For other brands which are not displayed, we are not authorised to process the HSRP order. Please get in touch with your dealer.
I am facing issue in making payment
Might be some "popups" are blocking your screen in your browser and are not allow you to open the payment gateway window. Enable the popup browser, and try again
What is the process to cancel/edit my order?
There is an option at the web screen "Cancel Order".
Is there any option that I can cancel/edit my order?
The HSRP is a customized and specifically manufactured as per your order. It is advisable to confirm twice, the vehicle details before confirmation of order.
You can't edit your order, you may cancel the same within 24 hrs. from the booking of order. We will not be able to cancel the order after 24 hrs from the time of placing of order, since the HSRP/sticker would have manufactured by then.
On successful cancellation the amount will be refunded within six-eight working days.
I have got the refund of the transaction, whereas I have not cancelled my transaction.
This transaction has been refused by Payment gateway, please process the new order.
I have cancelled my order, when will I get the refund?
Refund process will start within 2 hours and should reflect in your account if transacted through UPI, within 3 to 4 working days; if transacted through Private bank 4-5 working days and if transacted nationalized banks in 7 to 8 working days.
I have update wrong details, what will I do?
Please cancel the order within 24 hrs. of ordering and place the new Order. The Company will not be held responsible, if the order got processed and HSRP is prepared. You have to bear cost or any enforcement issues from the authorities.
What will happen to my payment, if I cancel my order?
The company will immediately process the refund and a confirmation will be provided.
What is the process/procedure if any dispute/issue is being raised?
A screen is displayed on the website, "Grievance Redressal" On selection of this option – a form will be displayed (Grievance form), fill the form and submit it. Team will approach and support you on your requirements/issues
I am not able to download the payment receipt
Visit https://bookmyhsrp.com/trackyourorder.aspx , update the details as asked and click on "Track your Order". The receipt will be e-mailed to you at your registered e-mail id.
Book My HSRP Helpline Number
The helpline number are:
Phone – 18001200201 – Calling time (9:30 AM to 6:00 PM) and day (Monday to Saturday)
Email ID : online@bookmyhsrp.com