This year Karwa Chauth 2021 is being observed on 24 October 2021. Date and time for moon rise, Puja vidhi for Delhi and Uttar pradesh states are given below.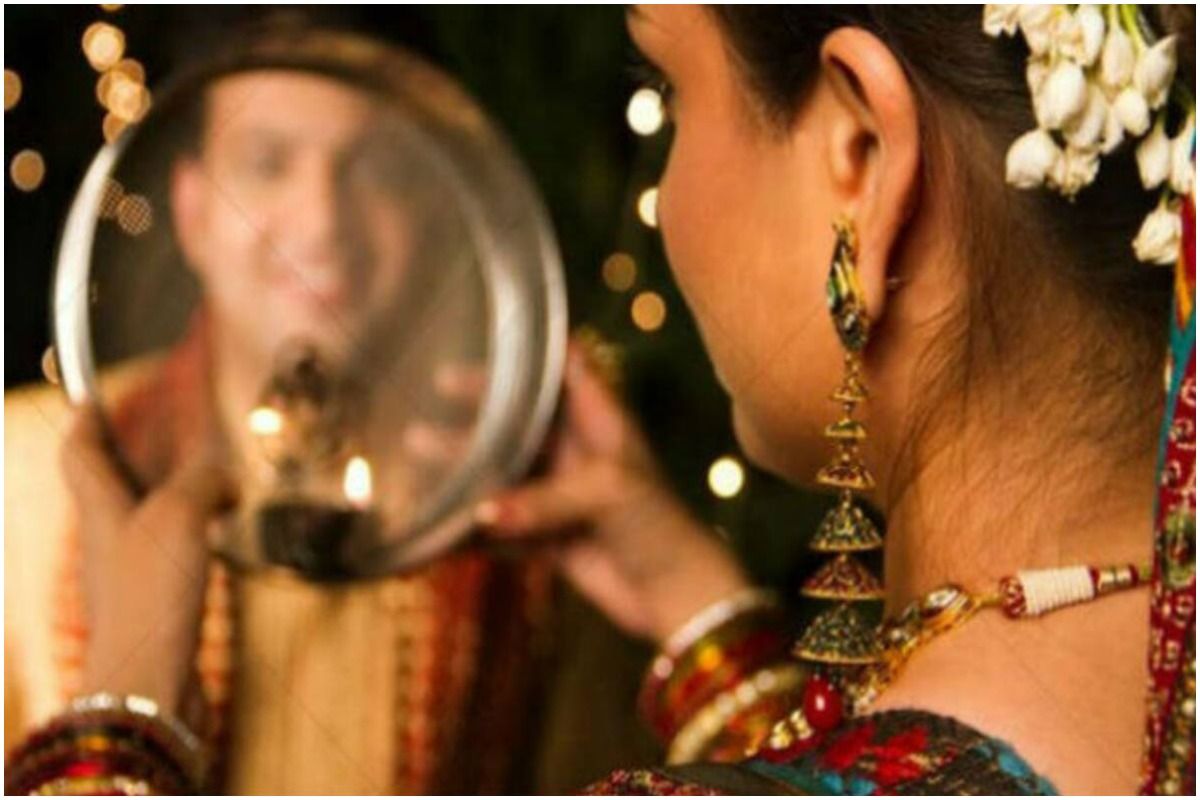 Karwa Chauth Fast 2021
Karwa Chauth a popular hindu festival celebrated in India. Most commonly in north india, this festival is observed by hindu married women. On this day, women keep a fast for the long life of their husband and break their fast after seeing the moon at night. This year, this festival of Karva Chauth (Karva Chauth 2021 Date) will be celebrated on 24 October 2021.
According to astrology, on this day, if women wear saree of colors according to their zodiac sign, then it gives a lot of benefit.
Aries- Aries women can wear red and golden colored sarees or suits on the day of Karva Chauth. 
Taurus – Women of Taurus zodiac can wear silver colored dress on the day of Karva Chauth. 
Gemini – Gemini women can wear green saris on the day of Karva Chauth. This color will be very auspicious for you.
Cancer – Women of Cancer zodiac should wear red colored sari on the day of Karva Chauth. This color will be good for you.
Leo – Women of this zodiac can wear red, orange, pink or golden color saree.
Virgo – Women of this zodiac should wear red, green or golden color saree or suit.
Libra – Women of this zodiac should choose red, golden or silver colored clothes for themselves on this Karva Chauth.
Scorpio – Red color will be auspicious for the women of Scorpio zodiac. Apart from this, you can also wear a maroon or golden color dress.
Sagittarius – Women of this zodiac should wear sky or yellow clothes in the worship of this Karva Chauth.
Capricorn – Women of this zodiac should wear blue colored sari on Karva Chauth this year.
Aquarius – Women of Aquarius zodiac should wear blue or silver colored saree.
Pisces – Women of this zodiac should wear yellow or golden colored saree. This color will be very auspicious for you.
Karwa Chauth Puja Muhurat
According to panchag, this year the muhurat for Karva chauth fast time is from 05:43 PM to 06:59 PM and the duration is 01 Hour 17 Minutes
Karwa Chauth Upavasa Time
The panchang says that fast timing is from 06:27 AM to 08:07 PM that means the total duration is 13 hours and 40 Minutes
Moon rise time on Karva chauth
Women having karrva chauth vrat can break their fast after viewing the moon. Otherwise, it will be considered a incomplete fast and a bad sign. As per the Drik Panchang the Moon rise time is around 08:07 PM
Puja Samagri
In order to complete the vrat, one must follow have all the samagri required to complete the puja. Here is list of Karva chauth vrat pujan samagri for 2021.
A lamp,
cotton wick
An oil lamp
Hoop
Flowers
Sweets
Roli
Incense sticks
An earthen pot
Roli
Dhoop
Sindoor
Chandan
Haldi
Honey
Sugar
Milk
water
Curd
Ghee
Kapur
Puja Vidhi
1. Get up early in the morning, Take sargi and drink water. Take a bath on this day before the sun rises. 
2. Arrange Puja Samagri and lord shiva, shri krishna and mata laxmi idols along with ganesha. Offer them garlands of yellow flowers, laddoos and bananas.
3. Then offer Bel leaves and makeup items to Shiva and Mata Parvati and Makhan-mishri and Pedas to Shri Krishna. After this put the picture of Karva Mata.
4. Light incense sticks and lamps. Then take a clay curva and make a swastika on it.
5. For the worship of Karva Chauth, build an earthen altar in the evening and install all the deities on it. Get it done.
6. Then take a plate and place incense, lamp, sandalwood, roli, vermilion and take ghee lamp in it. Light the lamp.
7. Worship should be started about an hour before the moon rises. Take earthen curva and mix milk, water and rose water in it.
8. On this day, definitely listen to the story of Karva Chauth.
9. After the moon comes out, look at the moon through a sieve. Offer Arghya after worshiping the moon. After the sighting of the moon, the woman should break the fast by drinking water from her husband's hand.
Give sweets, fruits, nuts, rupees etc. to the mother-in-law in the plate. Also take blessings of Saubhagyavati from him.