CBSE 12th Exam 2021 has been cancelled. The anxiety of students is finally put to an end. In the wake of COVID-19 prime minister Narendra Modi has decided not to force the students to appear for exams. However, unlike the last year, an option to appear for the board exams will be provided to the desirable students once the situation gets normalized. CBSE 12 Result 2021 is decided to prepare on the basis of the objective criteria and in a time-bound manner. For more updates regarding exams, question papers, solutions keep in touch with us.
What is Objective Criteria In CBSE?
Objective Criteria meaning is that the result gets prepared on the basis of the internal assessment marks. Teachers are instructed to be fair while assessing the students' performance internally. However, to some extent if students not satisfied with their result then they are provided with the chance to appear for the exams later.
CBSE 12th date sheet 2021
Important date
CBSE 12th exam starts from
04 May 2021

Cancelled

Last date for CBSE 12th exam
11 June 2021

Cancelled
CBSE 12 Date Sheet 2021 | CBSE Class 12 Time Table 2021
Before conducting annual examination, the Central board of secondary education conducts the Practical Exam. Soon after completion of the Practical exams, theory exams schedule based on the last year Time table is provided here for reference purpose only.
CBSE 12 Practical Dates 2021
In this section, we have provided the Practical exam date for Class 12th board exams. Students must note that the date are based on previous year details and provide for reference purpose only.
CBSE 12 Date Sheet for Science, Arts and Commerce Stream
The board releases the time table for all three major streams offered in Class 12th which are Science, Arts and Commerce. Usually, the time table is released in combined form in a combined form with subjects of all three streams merged in single time table.
Detailed syllabus for reference purpose is given below.
CBSE Class 12 Time Table 2021
Date
Subject
4th May 2021
English Elective English Core
6th May 2021
Carnatic Music Vocal
Taxation
Hindiustan Music PER INS
Hindustan Music MEL INS
Hindustan Music Vocal
8th May 2021
Physical Education
10th May 2021
Engineering Graphics
Food Production
Media
Shorthand
Textile Design
11th May 2021
Fashion Studies
Typography & Com App
12th May 2021
Business Studies
Business Administration
13th May 2021
Physics
Applied Physics
15th May 2021
Retail
Mass Media Studies
Bahasa Melayu
Mizo
Spanish'
Bhutia
Thangkul
Bodo
Telugu (Telangana)
Persian
German
French
Tibetian
Kannada
Assamese
Odia
Malayalam
Manipuri
Gujarati
Sindhi
Tamil
17th May 2021
Accountancy
18th May 2021
Chemistry
19th May 2021
Political Science
20th May 2021
Legal StudiesUrdu Core
Salesmanship
21st May 2021
Sanskrit (Core)
Urdu Core
Front Office Operations
Air Conditioning & Refrigeration
Sanskrit Elective
Design
22nd May 2021
Health Care
Painting
Sculpture
App/Commercial Art
24th May 2021
BiologyOffice Procedure & Pract.
25th May 2021
Economics
27th May 2021
French
28th May 2021
Sociology
29th May 2021
Informatic Practice (New)
Computer Science (New)
Informatic Practice (Old)
Computer Science (Old)
31st May 2021
Hindi Elective
Hindi Core
1st June 2021
Mathematics
Applied Mathematics
2nd June 2021
Geography
3rd June 2021
Web Application
Tourism
4th June 2021
Punjabi
Bengali
Marathi
Japanese
Telugu (Telangana)
Arabic
5th June 2021
Pyschology
7th June 2021
Home Science
8th June 2021
National Cadet Corps
Marketing
Geospatial Technology
9th June 2021
Banking
Yoga
Graphics
Kathak (Dance)
Bharatnatyam (Dance)
10th June 2021
History
11th June 2021
Entreprenruship
Biotechnology
Library & Info Sciences
Beauty & Wellness
Agriculture
Steps to Download CBSE 12th Time Table 2021
Downloading Official time table of Class 12th board exam from official site is very simple. Students may follow instruction provided below to successfully download it.
Step 1: Visit the official website of cbse.ni.cin or click on the direct download link given on this page
Step 2: If you are on CBSE homepage website, just click on the "12th Time table 2021" link
Step 3: Once you you click on the time table link, a new window with Official Date sheet document in PDF format
Step 4: Download the Time table PDF for future reference.
FAQs on CBSE 12 Date Sheet 2021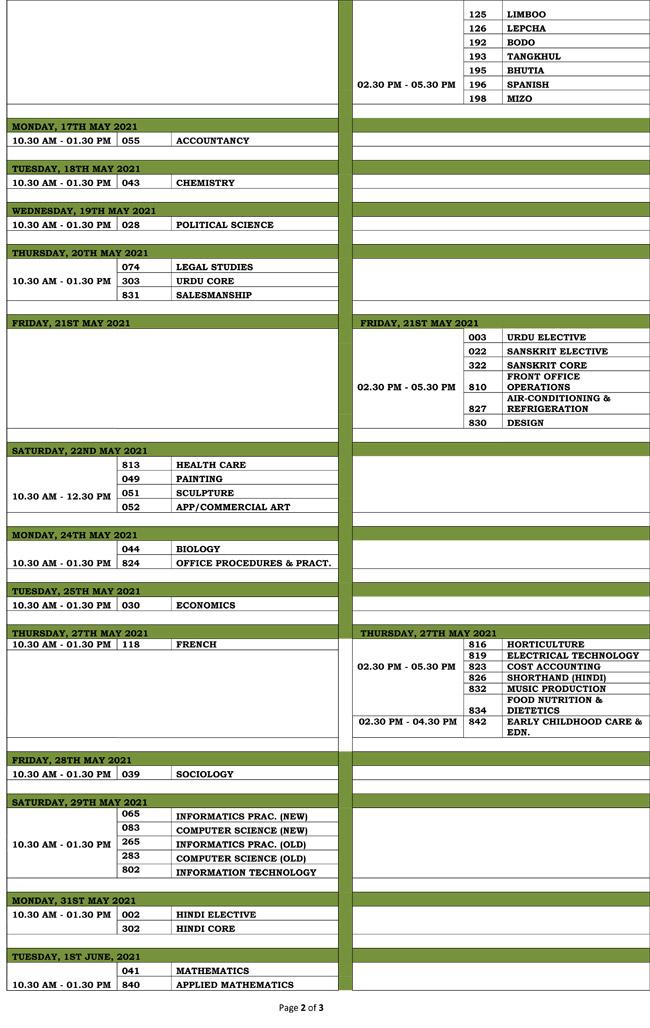 How to Download CBSE 12th date Sheet?

Detailed procedure to download the time table is given on this page.

When CBSE 12 Practical exam time table 2021 is going to be released?

Based on the last year details, it is expected that the board will be release the practical exam date sheet in December 2020