Hello friends, welcome to our another new blog post in which today I am going to tell you about best english learning apps that are free available for android and apple users.
If you want spoken english learning apps for free sitting at home, then keep reading this article till the end and I can say with confidence that if you learn English with the help of the applications mentioned by me, then you will learn English in a few days. . 
Because I also use these apps to learn English and am still learning English, although I have learned a lot in English till now, so I can tell you which is the best app to learn English for you.
Top English Learning Apps Online
I would like to tell you that you will never know when you will learn English while having fun, because learning English through these apps is so easy that you will not even realize how much you have learned in English.
Because all these apps make you practice all three things – writing, speaking and listening to learn English, because unless you know how to listen, speak and write a language, it is not possible to learn that language, but this app will help you It provides all three things.
English Learning Apps Free Download
So friends, understanding the importance of time, let us move ahead and know about english learning apps in india. I am also going to give the download links of all these apps, with the help of which you can download them directly.
Along with this I will also tell you about my favorite app that I use to learn English and I am also going to share personal strategies with you, so let's start the article.
1. Hello English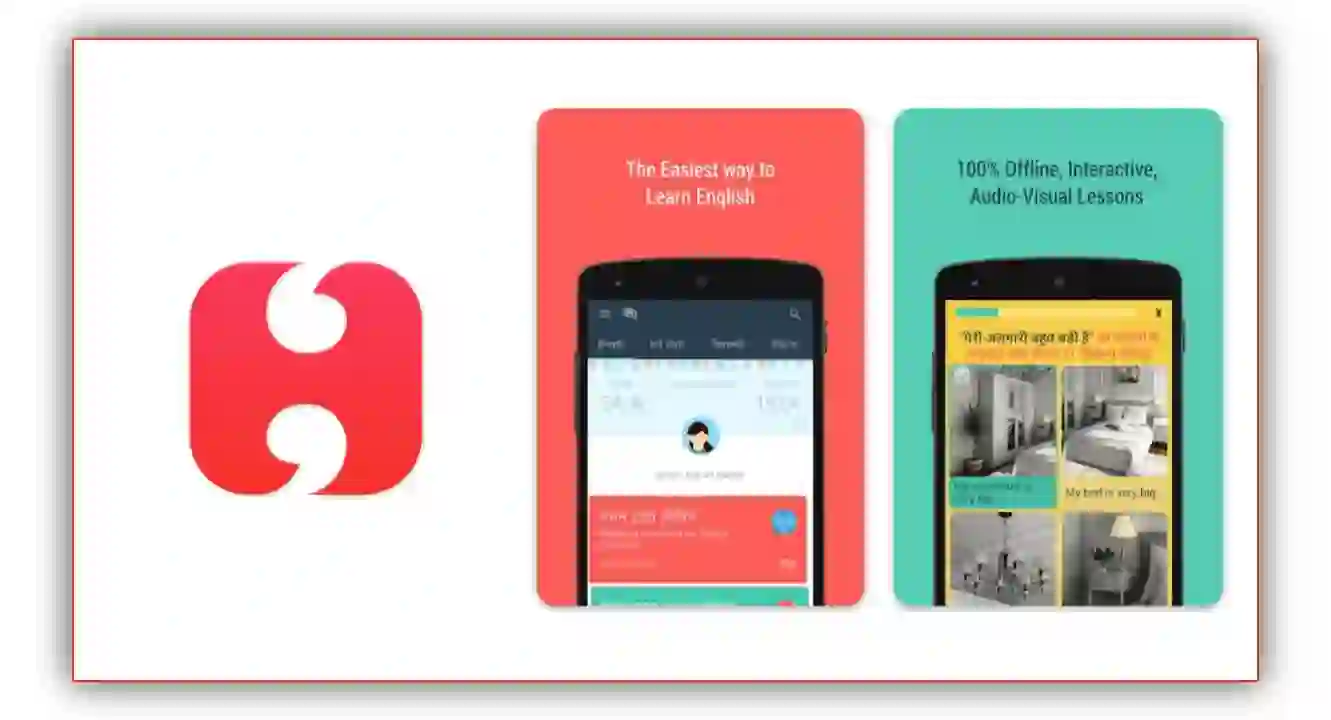 The first application on our list to learn English is called Hello English and it is also my favorite app which I use to learn English and you can also use it.
It is enough to make you an expert in writing, reading and speaking English because it supports major Indian languages ​​which include Hindi, Malayalam, Urdu, Tamil, Telugu, Marathi, Bengali and 22 Indian languages.
This means if you know all these languages ​​and you want to learn English, then Hello English is a perfect app for you and the default language you get to learn is Hindi to English.
With this, you will not feel bored at all in learning English because in this you get to see a lot of games etc. which you will find very interesting in learning and talking English.
When you open this app after downloading, first of all it will check how much English you know and on the basis of that it will suggest from which lesson you should learn English and if your English is weak then it will suggest lesson 1. will get.
And if you know English in medium type then you will be asked to start with 100 lessons and if you know English very well then it will tell you to take only these 50 lessons, your English will improve even more.
Hello English Learning App Free– 
Access 100% free interactive lessons for conversational English.
Use lessons offline at your convenience.
Engage in discussions with experienced teachers.
Practice with daily news and videos.
Play conversation and speaking practice games.
Explore a 10,000-word dictionary.
Participate in multiplayer games and quizzes to enhance your English skills.
How to learn English from Hello English App –
STEP1– First of all download Hello English App and open it.
STEP2– After opening the app, it will give you the option of many languages ​​from which you want to learn English. If you want to learn English from Hindi, then select Hindi.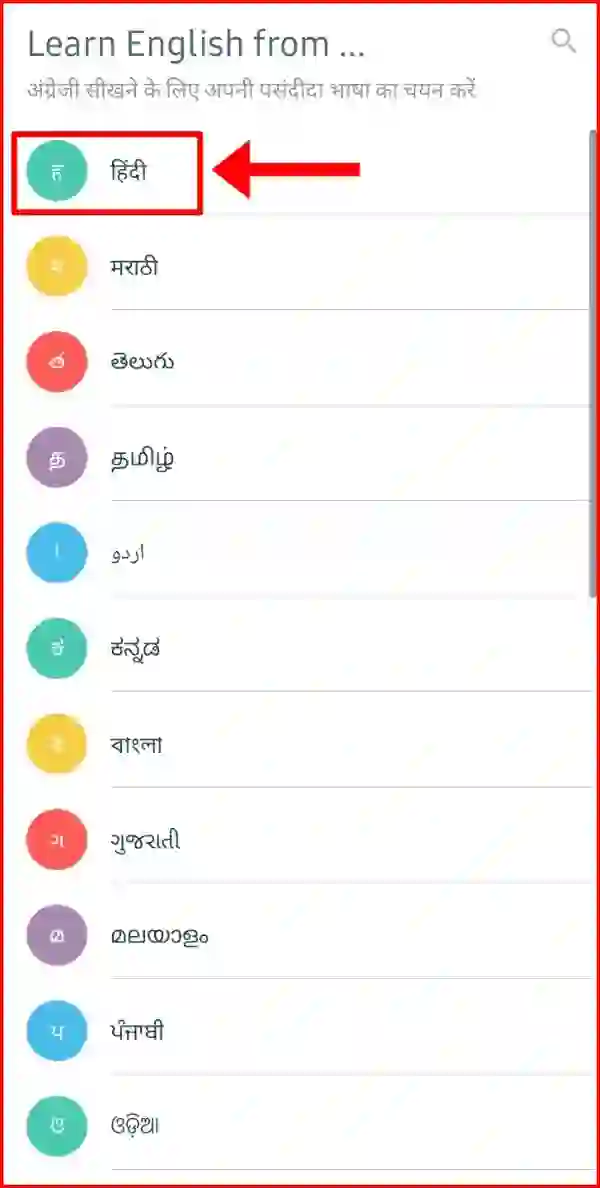 STEP3– Now you select the level of learning English, in this you are given the option of Beginner, Intermediate, Expert.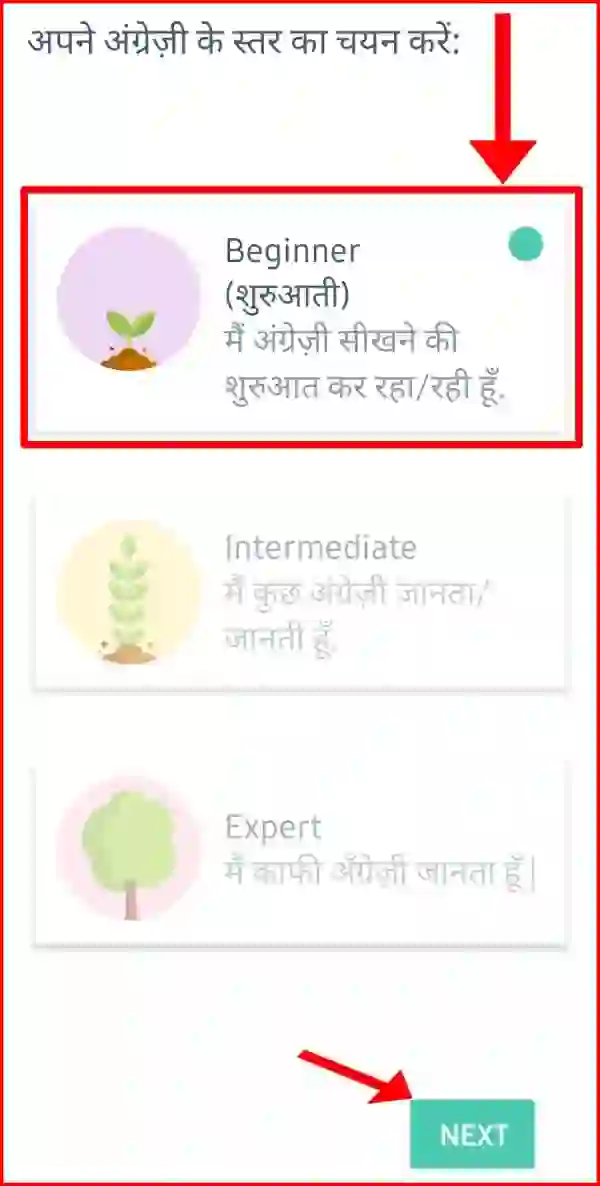 STEP4– Now select the option of why you want to learn English, so here I am going to select General English Improvement.
STEP5– Now choose your avatar.
STEP6– After selecting the avatar, enter your mobile number and press Next button.
STEP7– Now this app will open and your lesson will be visible on the home screen itself, you can start learning English by clicking on it.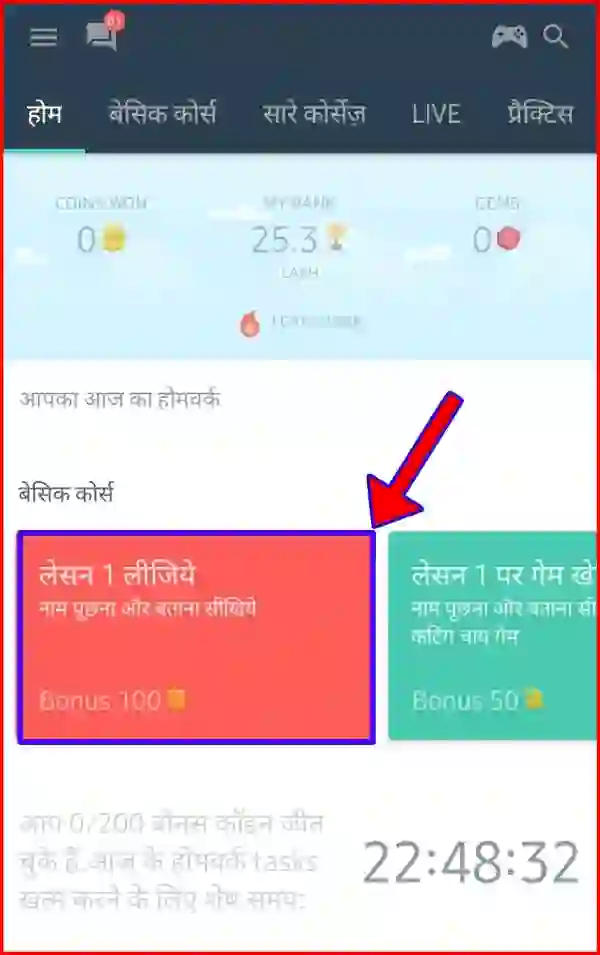 2. Duolingo
Duolingo is also a Best App to Learn English, with this we can learn English from any language which is your only language, it gives an opportunity to learn English from almost 30 languages.
With this you can learn to read, write, speak and listen in English and it will also tell you about English grammar and it will teach you to speak more than 2500 sentences in English so that you will be able to talk to anyone in English.
There is a great option in Duolingo that you can set it yourself for how long you want to learn English or how much time you want to give to Duolingo every day.
It gives option to learn English for 5, 10, 15 and 20 minutes daily as per your wish and if you want to learn good English then you have to give 20 minutes daily and more time you can give to learn any language. , the faster you will learn that language.
It gives the option to choose the right level to start learning English as those who do not know English at all are asked to learn English from Unit 1 and those who already know a little English have the option to move up quickly. can see.
Duolingo English Learning App for beginners –  
Learn English, French, and 30+ other languages for free.
Discover the fastest path to mastering a new language.
Enjoy quick, engaging, bite-sized lessons that deliver results.
Practice speaking and listening to the language.
Expand your vocabulary and discover new words.
Benefit from valuable learning tips with each lesson
3. Namaste English
If you want to speak English and strengthen your vocabulary, then Namaste English app has been brought for you, in which English speaking is practiced and conversation is taught.
With this, you can learn English by listening and can also make English sentences, that is, you can learn whatever things related to English you want and can choose the level of difficulty of speaking for spoken English.
In this you get to see a spoken accuracy meter which checks how correctly or incorrectly you are speaking English and to check this you get to see a mic in which you have to speak in English.
If you have spoken English correctly then your performance will be 100% and if you have spoken something wrong then your performance will be 50-60% and it will completely depend on how much effort you have put in and how many correct answers you have spoken.
Although it provides many small and big features to learn English, but it also provides video courses to learn English, by watching which we will learn a lot in English very quickly and Namaste English teachers are also available.
Namaste English Learning App for Adults – 
Access English learning games for spelling checks.
Enjoy free access to most chapters.
Earn coins to unlock advanced chapters.
Benefit from a virtual English teacher.
Practice with large and complex English sentences.
Engage in medium-length daily life conversation sentences.
4.Enguru
In Enguru you get unlimited Live English Classes, that too by expert teachers and people who are serious about learning English use Enguru app and also learn English.
Perhaps this is the reason why Enguru is most preferred in India for learning and speaking English and till now they have helped 40 million students to learn English which is a huge figure.
Although this is a completely free app, but if you want personalized attention and want to take live class in small group, then a subscription plan is also available.
In which you get to see thousands of games and other activities which makes learning English fun and easy and every day you can learn a new topic of English from it.
Meaning, today you will be told about Noun and the next day you will be told about Verb and whatever topic is selected in a day, all the doubts related to it are eliminated.
Free English Lesrning App Enguru Features – 
Enroll in personalized 1-on-1 classes with an English expert.
Monitor and track your learning progress.
Review and reinforce your skills with daily practice lessons.
Assess your proficiency with the Upskill English Assessment by Cambridge.
Join the Penguin Readers Club for additional benefits.
5. Babbel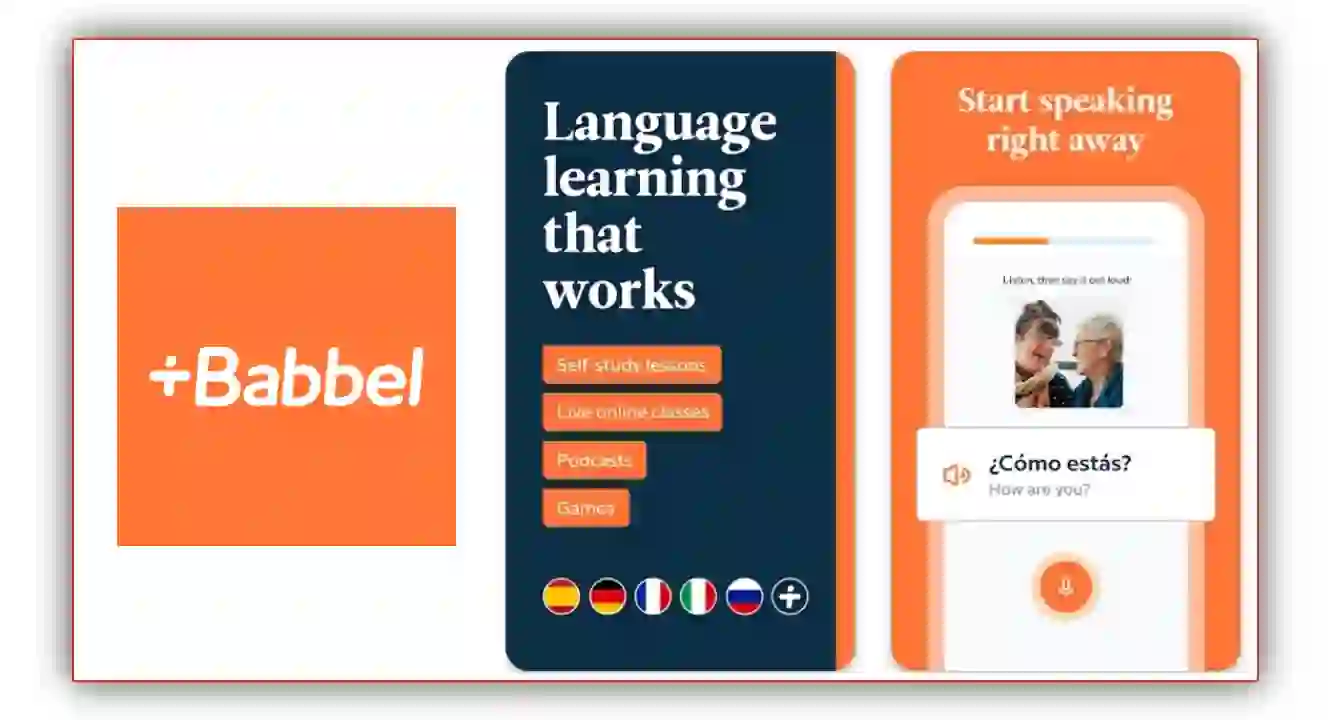 Friends, Babbel is an English learning app which helps in learning English as well as 14 other languages ​​including Spanish, French, German, Indonesian etc.
This app is designed to help users learn a new language through interactive lessons that cover Grammar, Vocabulary, Pronunciation and Culture.
I would like to tell you that the English you learn from Babbel is useful in real life situations and scenarios so that the user can speak English in practical situations and it uses Speech Recognition technology to improve the pronunciation.
Babbel is available for Android devices as well as for IOS and Computer and it also provides Monthly and Yearly Subscription and the pricing is based on that, however, you do not need to take their subscription because you can learn English for free also. Is.
Spoken English app Babbel Features – 
Join personalized 1-on-1 classes with an English expert.
Keep a close eye on your learning progress.
Enhance your skills through daily practice lessons.
Measure your proficiency with the Cambridge Upskill English Assessment.
Unlock extra benefits by becoming a member of the Penguin Readers Club.
6. Busuu: Learn Languages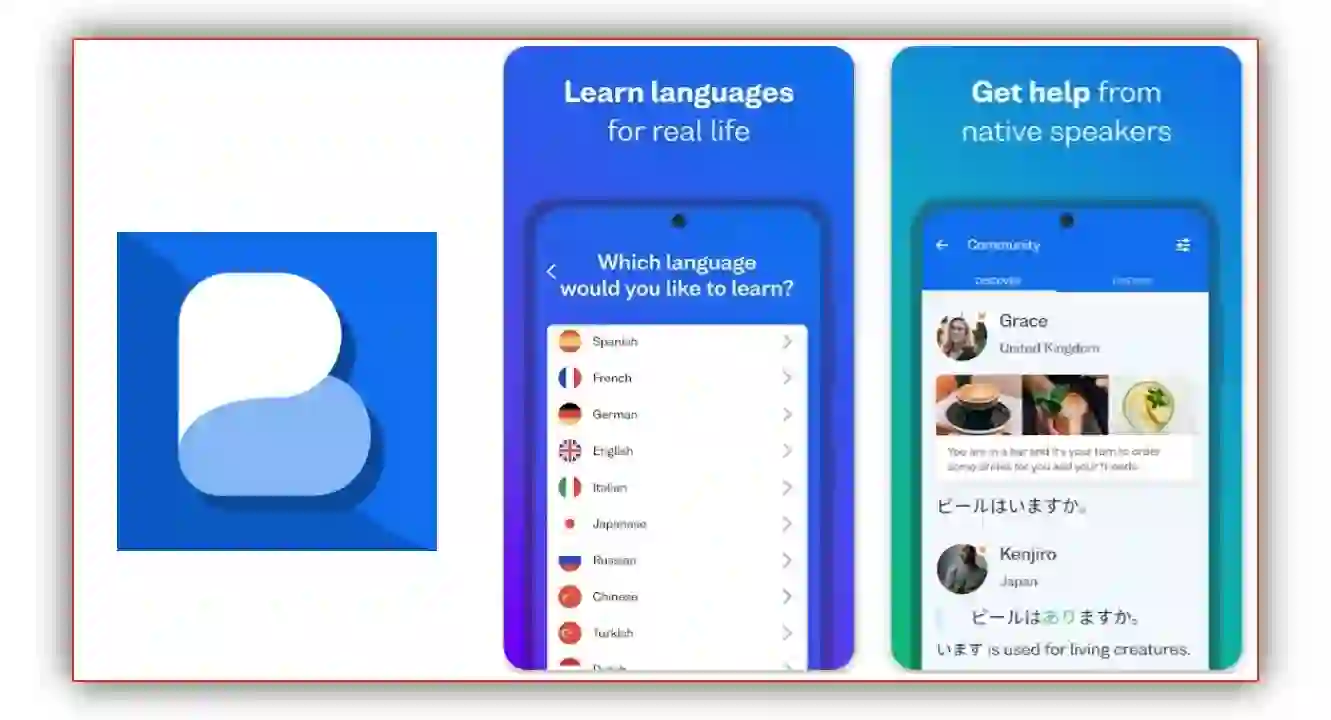 If you are interested to learn English then you should use Busuu App because it gives you bite sized lessons and that too with expert recommendations.
With this, you can also learn English for different work, so that you do not have to face the problem of speaking English for that particular work, in which you get the option of English For Business, Travel, Pronunciation and Complete English.
I would like to tell you that with Busuu App you can learn not only English but also 14 other languages ​​and the process of learning all the languages ​​is the same.
Due to which we have the advantage that if we learn English from this then it becomes easy for us to learn any other language because the language is different but the process of learning is exactly the same.
The most important process seen in the process of learning English is called community, in which you will see only those people who want to learn English and you can also talk to them and solve your problems.
Learn English App Busuu Features – 
Tailored Study Plans
Mastery of Grammar & Vocabulary
Uncover Useful English Phrases
Access Specialized Courses to Suit Your Language Requirements
Explore Award-Winning Content Crafted by Experts
Strengthen Vocabulary Retention with the Vocabulary Trainer
Achieve Excellence with the Grammar Review Tool
7.Utter
If you want to learn English from Hindi then Utter is going to be a great application for you and Utter is an Indian app so it understands the problem of Indian people better and adopts a right method to teach English.
That is why it teaches us Live English just like a classroom, that is why Indian people easily interact with Utter and learn English very soon because you know the people here believe more in Live things.
And keeping that in mind, today Utter has become quite popular in the matter of learning English, perhaps that is why it is being used by one crore people and they have also given their feedback.
The best feature that I have seen in this is that you can also ask your questions in the Live Class because in this you get the option to send messages and you can also do voice messages and express your views in the Live Class. Are.
English Grammer App Utter Features – 
Seek Clarifications from Our Expert Team
Engage in Learning with Our Chatbots
Explore a Wide Range of 300+ Topics
Attend 30-Minute Live Classes Conducted by Experts Throughout the Day
Access a Comprehensive English Grammar Curriculum for Improved Sentence Construction
Utilize a Dictionary to Decipher Challenging Vocabulary
Monitor Your Performance Scores and Receive Progress Analysis
Rely on English Experts to Resolve Your Queries
8.Elsa Speak
Friends, Elsa Speak is also a very popular English Me Baat Karne Wala App, the biggest reason for this is that with it you are going to learn English while playing and with this you will not even know when you will switch to English because you will feel that you are still playing. .
But you must have learned a lot in English and this is my personal experience because I have also used Elsa Speak, although I already knew English, then I have used it a lot.
Along with learning English, it gives maximum emphasis on the fact that you can speak English confidently and correctly, so it gives us a mic in which we have to speak English and how well we have spoken English. Based on this it gives us score.
By looking at the score, we get information about how much progress has been made in learning English and which increases our confidence and skills in learning English.
This lets you practice English pronunciation with a person in front of you or you can consider him or her a friend, so you can experience real English speaking.
Lanugage Learning App Elsa Features – 
Hone English Pronunciation with Accurate Feedback
Monitor Progress in Key English Skills
Access 1600+ Lessons Spanning Everyday English to Career-Focused Topics
Master the Pronunciation of All English Sounds
Engage in Speaking Practice Through Engaging Games
Cultivate Fluency in American English and Continue to Thrive
9. Memrise: AI Language Tutor
If you are looking for an app to learn English in Hindi that can give you complete knowledge of English language through AI, then you should use Memrise app which is going to teach you English using 100% AI.
Yes, you heard it 100% right because in this you do not get to see any Live Classes or Tutor because its AI is a Tutor in itself, however in this you get the option of Live Video Calling so that you can talk with your friends in English. can talk.
In this you get to watch a video of Native Speaker, through which you can practice listening to English, that is, you will get to watch a video clip and you have to understand the sentence spoken in that video.
Also you will get to see 4 options related to that sentence, whatever sentence you have heard, you have to select that option, so that you will know that the word you have heard in English is absolutely correct.
Apart from this, daily spoken English words are practiced and the daily spoken words are also reminded and grammar information is also given.
English Tutor App Memrise Features – 
Acquire Handy Everyday Phrases
Familiarize Your Ear with Authentic Language
Challenge Your Comprehension
Speak Like a Local with Speaking Practice
Master the Fundamentals of Script Writing
Establish and Monitor Your Personal Goals
Gain Practical Vocabulary and Phrases for Real-Life Scenarios
10. Learn English Sentence Master
If you really want to know how to learn English, then you should download Sentence Master App which provides you with fun and educational English language games so that you can learn English while playing.
In this you get to see a game in which sentences have to be made correctly, for which you are given a word and you have to make a sentence by arranging it correctly.
Which will be like a time pass game for you, but you will not be able to imagine how much you can improve your English by doing this, but you will realize it when you play Sentence Building Game.
The score you see in the Sentence Build game is reflected in the Star Review, which is based on how quickly you put the sentences together, including how long it took and how many mistakes you made. Where is it?
Vocabulury Building App Features – 
Multiple Skill Levels Available
Extensive Collection of Exercises
Seamless Progress Monitoring
Valuable Feedback and Clear Explanations
Ideal English Learning Apps for Students and Educators
Suitable for Learners of All Proficiency Levels
Gamified Approach for Effortless English Grammar Mastery
11. Cake
Friends, among all the English Sikhne Ka Best App that we have told you above, Cake is the most different application because you can learn English by watching short videos from it and these videos are also called Natives Speak.
However, in this you get to watch short videos of many different teachers who teach you English and you can follow those videos whose native speak videos you understand.
Whatever lesson you get in it is short and very fun which is always remembered and if you learn English through Cake app for 21 consecutive days then you will learn English guaranteed.
But the same thing, you have to complete English lessons continuously for 21 days and keep doing the Conducted Speech and Exercises given and you do not need to worry because even if you give your time for 20 minutes daily. It is easy for you to learn English.
English Fluency App Cake Features –
Discover Common Everyday Expressions
Enhance Listening and Speaking through Conversational Practice
Progress with Step-by-Step Lessons in Cake Class
Gauge Your Learning with Interactive Quizzes
Save Expressions for Convenient Revision
Acquire Real English from Vlogs, Movies, and TV Shows
Watch Subtitled Videos and Practice Line-by-Line Repetition
12. English Speaking Practices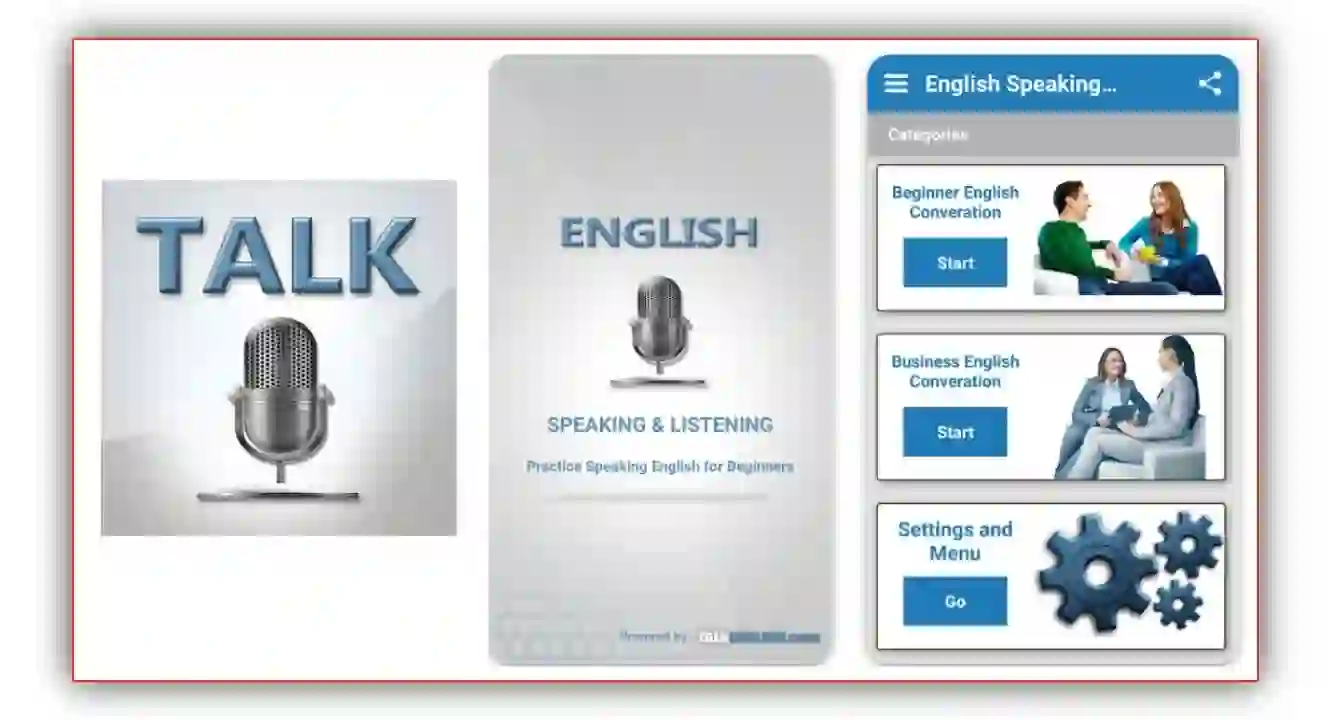 If you already know a little bit of English and want to strengthen that English further, then you should use this app which helps in improving your English which is the best app for beginners.
From Beginners, I remembered that if you do not know English at all, then there is an option of Beginners English Conversation in it, which was specially created for those who want to learn English from zero.
In this, many categories have been given for Beginners Conversation and the first option in those categories is named Chat-Small Talk in which you can practice speaking of small sentences.
Along with this, a separate section has been given for Daily Life Conversation, similarly, different English speaking categories have been given for different tasks, which is the best way to learn English.
Personally, the best feature that I have found in it is Listen which gives you an opportunity to listen to English and this will strengthen your vocabulary and increase your ability to understand English.
English Speaking Practices App Features – 
Carry English Speaking Practice in Your Pocket
Download Audio Programs for Offline Listening
Enjoy Your Favorite Programs and Presenters
Challenge Yourself with English Quizzes
Receive Learning Reminders through Notifications
Engage in Conversations with AI Friends
13. JoshTalks English Speaking App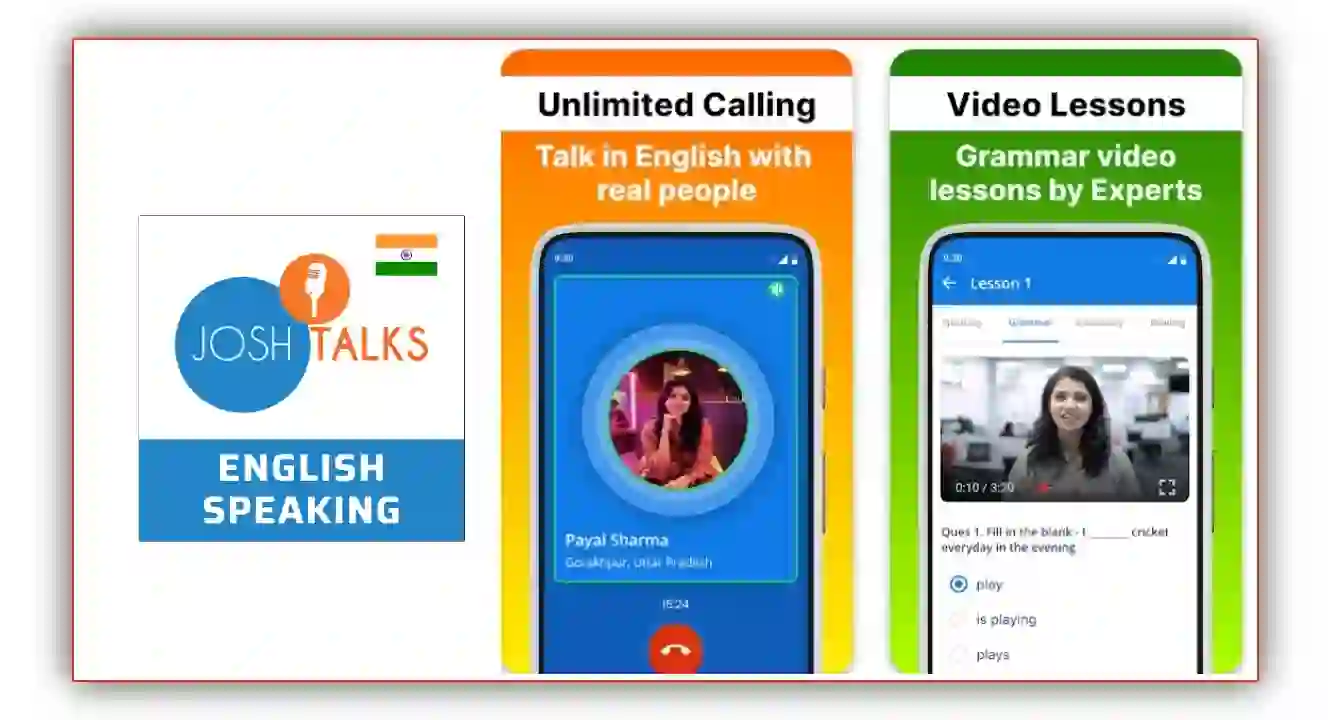 In today's time, there will hardly be anyone who does not know about JoshTalk because you must have heard the life stories of many successful people through JoshTalk YouTube Channel who have told the secret of their success.
This is the official English Speaking App of the same Josh Talks which helps in learning English by real people and in this you do not get to see any AI option, rather genuine and real people teach English.
In this you get the facility of Unlimited Calling, through which you can talk to real people in English and these people will also be learning English like you.
Now you might be thinking that we do not know English but you are asking people to speak in English; So I would like to tell you that Grammar Video Lesson is given in it, with the help of which you can learn all the concepts of English, after that you can talk to people in English without any hesitation.
JoshTalks English Speaking App Features – 
Over 1000 Vocabulary Words
Daily Revision Lessons
Achieve Goals and Boost Confidence
Trusted by 5 Million Students
Grammar Concept PDF Notes
Earn Points as You Complete Lessons
Practice with an Unlimited Number of Students
Beginner-Level English Grammar
14. Basic English For Beginners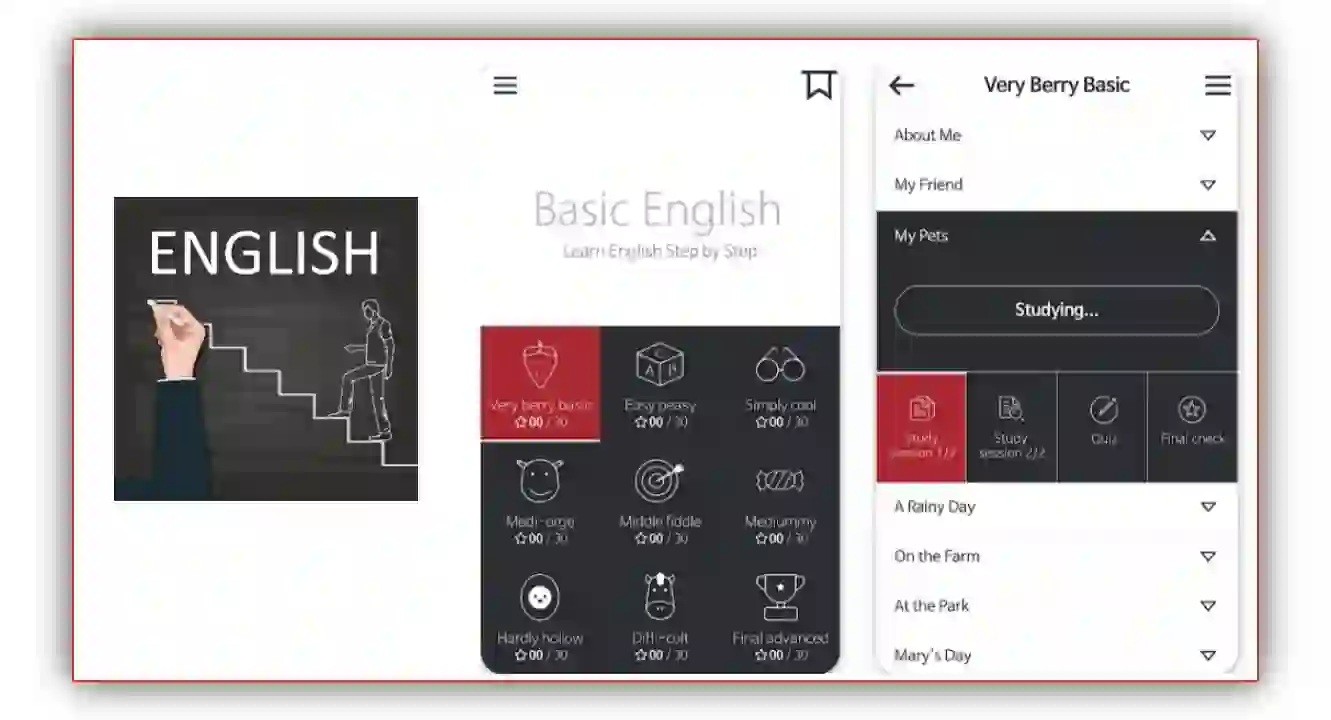 This App has been brought for those people who do not even know A in English. If they want to learn English from scratch, then this App has been brought for them and it teaches completely step-by-step.
This will give you a clear path to learn English and I can say with full confidence that you will learn English from zero to advance level within 3 months.
You will be surprised to know that this app is completely free due to which beginners do not need to spend even a single rupee from their pocket to learn English, which becomes a big thing.
In this, first of all you will be told about very basic English. After that something will be explained through Easy Peasy example and only by doing this English will be taught up to Advance Level.
Basic English For Beginners App Features – 
Listen To The Short Audio File
Study The Vocabulary
Practice Speaking The Sentences
Take A Quiz To Understand
Listen To The Audio File Again And Read Along
All The Lessons Were Created In A Step-by-Step Method
Starting With The Easiest Words And Easiest Grammar Points
15. Learn English From Hindi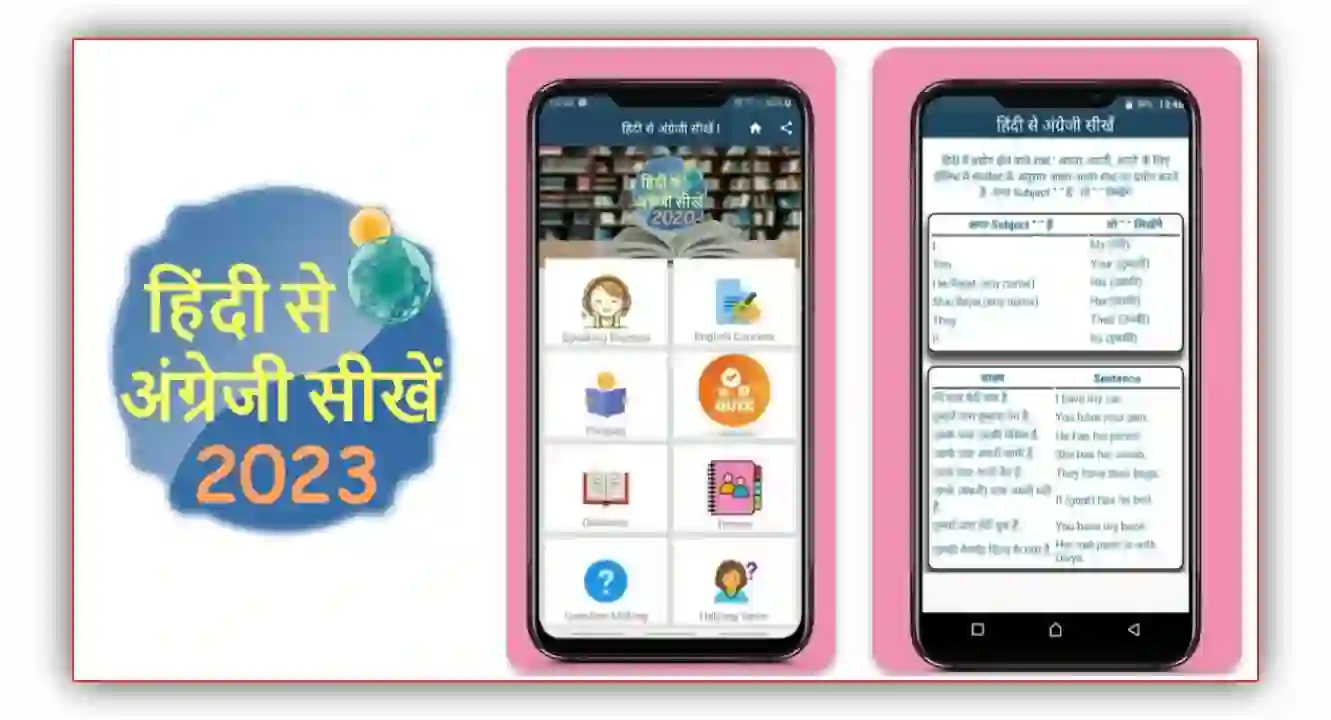 Now the name of the application about which you are going to know is very special because everything is clear from its name itself. Yes, I am talking about Learn English From Hindi App.
With which you can learn English only from Hindi, that is, it can teach English to dedicated Hindi speaking people and in this you get to see all the features which we have mentioned above.
Still, I would like to tell you that through this you get to see options like Speaking Practice, English Courses, Phrase, Quiz, Grammar, Tenses, Question Making, Helping Verbs etc.
16. EngVarta
If you are serious about learning English and are looking for a Premium App, then EngVarta has been brought just for you, which is a Premium App, to use which you will have to buy one of their Premium Plans.
With this, you can practice on call with English Experts and record that session for revision and prepare the assignment in advance for the next call.
However, in this you get to read a Vocabulary Series which is absolutely free, through which you can learn new words daily and every morning you get 3 new words.
CONCLUSION
So this was today's article from which I gave you information about English Sikhne Wala App. I hope that you must have liked today's blog post.
If you really liked this article, then do share it with your friends and also tell us by commenting that how did you like this article and if you have any question related to learning English, then you can tell us by commenting.
We will definitely try to reply to everyone's comments, till then take care of yourself and your loved ones.