In our world today, understanding different languages is very important. Sometimes, we need help to translate one language into another. This is where translation apps come in handy. These apps can help you understand languages you might not know, like turning English into Hindi. You might be wondering, "Which is the best app for English to Hindi translation?" or "Is there a free app for translating English to Hindi?" We'll explore these questions and also look at how good these apps are at translating accurately. We'll even see if there's a translator app better than Google Translate. So, let's dive into the world of translation apps to find the one that suits your needs best.
Best English to Hindi Translation App
Our top pick for the best English to Hindi translation app is none other than Google Translate. This app, backed by the tech giant Google, has established itself as a reliable and versatile language tool over the years. With over one billion downloads worldwide, it stands as a testament to its effectiveness.
What is the most reliable translation app?
We have discussed several translation apps, including Google Translate, Microsoft Translator, and DeepL, among others. Each of these apps has been recognized for its reliability and accuracy in translation, making them dependable choices for various language needs. However, it's important to note that the "most reliable" app can vary depending on specific requirements and preferences. Therefore, we have provided a list of these reputable translation apps, acknowledging that all of them are known for their reliability and effectiveness in bridging language barriers. Users can choose the one that aligns best with their unique needs and preferences.
Google Translate – Most Accurate App
It boasts a vast language database, making it an ideal choice for multilingual communication. You can seamlessly switch between English and Hindi, or explore translations in over 100 other languages. Here are some noteworthy features of Google Translate:
Tap To Translate In Any App: Google Translate can be integrated with other applications, allowing you to translate text without switching between apps.
Instant Text Translation Using Camera: Point your camera at text in a foreign language, and Google Translate will provide real-time translations on your screen.
Offline Translation: No data connection? No problem. Download language packs and translate text even when offline.
Language Auto-Detection: The app can automatically detect the source language, saving you the trouble of specifying it manually.
Handwriting Recognition: If typing isn't your forte, draw characters or letters with your finger to receive translations.
Cross-Device Syncing: Access your translation history and preferences across multiple devices.
Phrasebook: Save commonly used phrases for quick reference.
How to Use Google Translate for English to Hindi Translation:
Download Google Translate: Find it on the Google Play Store or App Store and install it on your mobile device.
Open the App: Upon opening, you'll see English and another language selected. Click on the second language and choose Hindi.
Start Translating: Type, paste, or use the camera to capture English text, and Google Translate will provide the corresponding Hindi translation.
Is there a better app than Google Translate?
no google translate is the most accurate translation app for english to hindi language.
Hi Translate – Chat Translate:
For those who frequently converse in English on WhatsApp, Hi Translate is a game-changer. This app offers a unique feature called Scan Translation, allowing you to translate English sentences into Hindi effortlessly. Here's what you can expect from Hi Translate:
Support for 135 Languages: Hi Translate is a multilingual powerhouse.
Real-Time Communication: Chat seamlessly with friends in different languages.
Travel Assistance: Decode menus and signs in foreign countries with ease.
Sound Translations: Listen to the pronunciation of translated words.
Offline Translation: No internet? No worries. Translate offline.
Microsoft Translator:
Microsoft Translator is another strong contender in the world of translation apps. While it's often compared to Google Translate, it has its own set of advanced features and AI capabilities, making it a formidable choice for language enthusiasts. Here's what sets Microsoft Translator apart:
Text, Voice, and Image Translation: Translate text, spoken words, and even images with ease.
Multi-Person Conversations: Engage in multilingual conversations with more than 70 supported languages.
Download Languages for Offline Use: Perfect for travelers, you can download language packs for offline access.
Translate All Languages:
If you're not limited to English and Hindi and require translations for a variety of languages, the aptly named Translate All Languages app is your go-to choice. This app offers translations for over 100 languages, making it a valuable resource for global communication. Here's what you can expect:
Translation of Words and Sentences: Translate text effortlessly.
Voice Messages and Audio Conversion: Easily convert voice messages and audio recordings.
Text and Written Content Translation: Translate written content in real-time.
Microphone Functionality: Speak and translate in multiple languages.
Globally Recognized Language Translator: Access a wide range of languages.
Hindi-English Translator:
For those traveling to English-speaking countries or seeking to improve their language skills, the Hindi-English Translator app is a valuable resource. Designed by an Indian developer, it offers various translation options and customizable interfaces. Key features include:
Voice Input: Input text via voice for quick translations.
Favorites and History: Save frequently used translations for future reference.
Interface Customization: Tailor the app's interface to your preferences.
Yandex Translate:
Yandex Translate is known for its user-friendly interface and straightforward translation capabilities. Even those with minimal tech experience can easily translate English to Hindi and vice versa using this app. Here are some of its features:
Voice Translator: Speak and translate words and phrases in Hindi, English, Spanish, and more.
Learn New Words: Expand your vocabulary with this app's word and meaning feature.
Camera Translation: Snap pictures of menus and signs for instant translations.
Offline Translation: Translate without an internet connection.
Predictive Typing: Save time with the app's predictive typing function.
Hi Dictionary – Translate Now:
Hi Dictionary is more than just a translation app; it's a comprehensive language tool. Besides offering translations for over 100 languages, it includes features like Word Corrector, making it a great choice for those looking to enhance their language skills. Here's what sets Hi Dictionary apart:
Support for 100+ Languages: Translate text across a wide range of languages.
Cross-Application Translation: Easily translate text from other apps.
Offline Dictionary: Access translations even without an internet connection.
Grammar Check: Correct your writing errors with the app's grammar check feature.
Camera Translation: Snap pictures and translate text in real-time.
iTranslate Language Translator:
iTranslate is a popular choice among users, boasting over 50 million downloads. While it offers a range of features, some are available through a subscription. Nevertheless, it's a reliable option for everyday translation needs. Here's what you can expect from iTranslate:
Listen to Translations in Different Voices: Choose between male and female voices for your translations.
Free Translations in Over 100 Languages: Access translations without any additional cost.
Switch Between Dialects: Explore different dialects when translating.
Voice-to-Voice Conversations: Engage in spoken conversations in various languages.
Verb Conjugations: Access verb conjugations in different tenses.
Talkao Translate:
Talkao Translate is a fantastic choice for those who prefer speaking over typing. This app allows for voice translations, making it exceptionally user-friendly. It supports 125+ languages and offers both online and offline translation options. Here are some highlights:
Voice Translator: Speak and translate text with ease.
Chat and Translate: Communicate with others in real-time.
Learn New Languages: Improve your language skills effortlessly.
Customizable App: Adapt the app's settings to your liking.
All Language Translator Free:
As the name suggests, All Language Translator Free is a versatile app capable of translating various languages into Hindi. This app goes a step further by providing dictionary and synonym features, making it an all-in-one language tool. Here are the key features: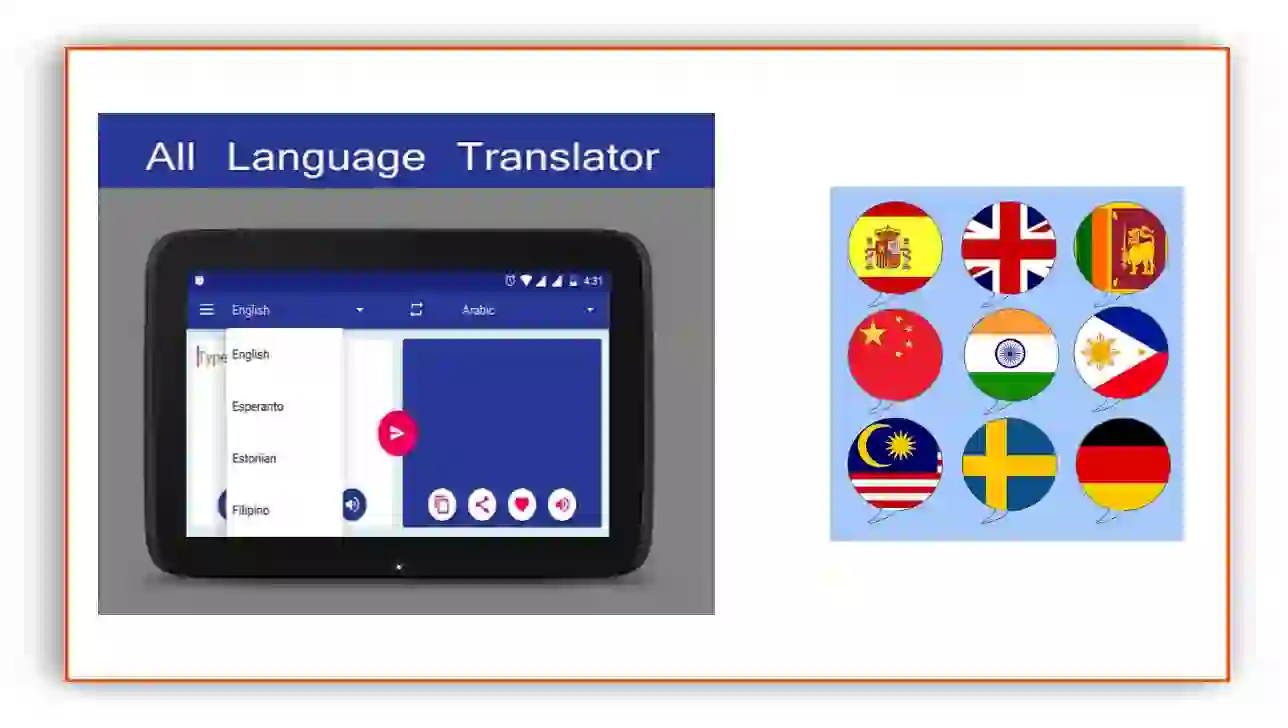 Simple User Interface: Easily navigate through the app's user-friendly design.
Listen to Translations: Hear translations in languages like Japanese and Chinese.
Share Translations: Share translated text with friends and family.
Copy Translated Text: Copy translations with a single button tap.
Voice Translation: Use your voice to perform translations.
SayHi Translate:
SayHi Translate is perfect for real-time spoken translations. Whether you're traveling or communicating with friends, this app can facilitate seamless conversations. With support for 100 languages, it's a reliable choice for language enthusiasts. Here's what you can expect:
Internet Connection Required: Ensure you have an internet connection for app functionality.
Ideal for Learning New Languages: Use it as a tool to learn new languages.
Android Talkback Support: It's optimized for Android accessibility features.
Improved Navigation: Easily access settings and options.
Naver Papago – AI Translator:
Naver Papago is an AI-powered translator app designed to bridge language gaps with ease. With support for 13 different languages, it's a valuable tool for travelers and language learners. Here's what makes Naver Papago stand out:
Text Translation: Translate text effortlessly.
Customizable My Notes: Create customized notes for language learning.
Translate Texts in Photos: Translate text from images in real-time.
Smooth Conversation: Engage in fluid conversations with foreigners.
Offline Translation: Translate without an internet connection.
Hindi Translate: Text & Voice:
Hindi Translate is a unique translation app that offers more than just English to Hindi conversion. It supports over 100 languages and comes with features like Bubble Text Translator, making it ideal for translating WhatsApp chats and scanned English text. Key features include:
Bubble Text Translator: Translate WhatsApp chats and scanned text effortlessly.
Input Box Translator: Use the input box for quick translations.
Camera Real-Time Translation: Translate text using your camera in real-time.
Stylish Text: Customize your chat with stylish text options.
DeepL Translate:
DeepL Translate is a powerful translation app that supports translations between Hindi and 29 other languages. Known for its speed and accuracy, it's a popular choice for individuals seeking quick and reliable translations. Here's what sets DeepL Translate apart: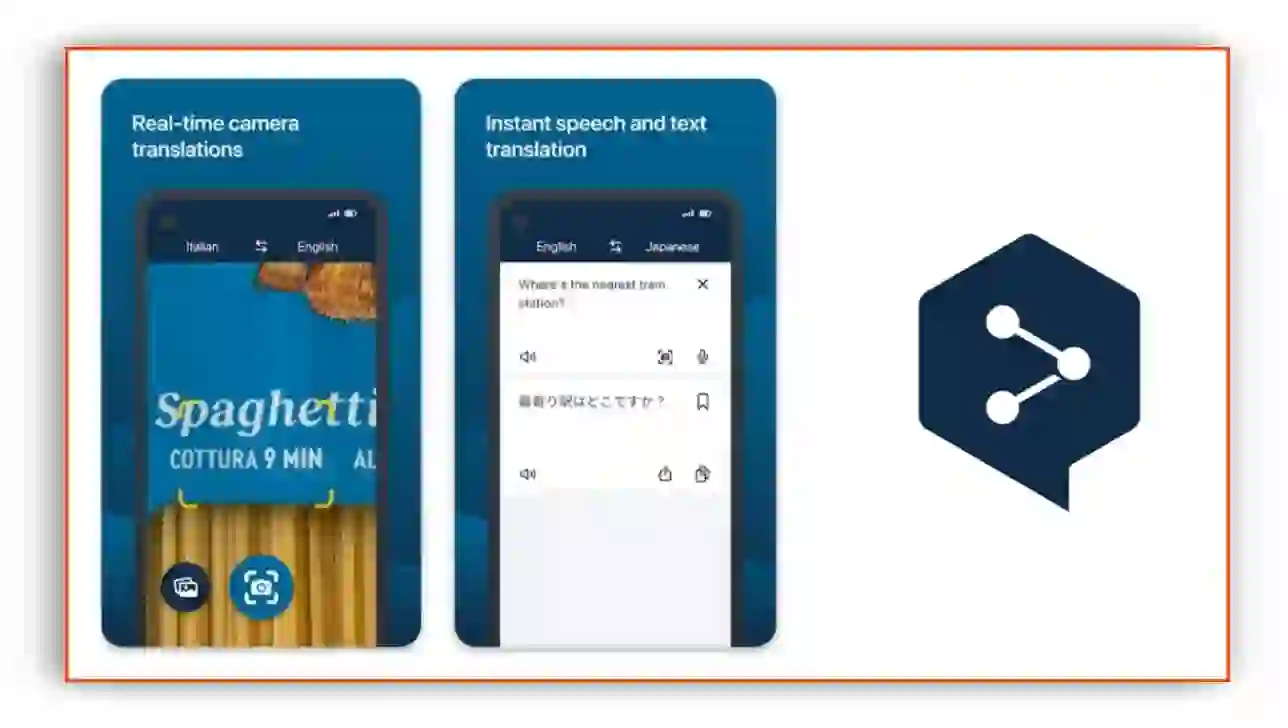 Real-Time Camera Translation: Translate text from images in real-time.
Instant Speech and Text Translation: Get instant translations for spoken words and written text.
Save Your Translations: Keep a record of your translations for future reference.
Dark Mode Support: Enjoy the app in a dark-themed interface.
Alternatives: Explore alternative translations for words and phrases.
Scan & Translate:
Scan & Translate is the ideal choice for those needing to translate books or documents. Students and researchers will find this app particularly useful. It's known as the world's top app for scanning and translating documents. Here are some key features:
Portable Scanner and Translator: Scan and translate documents on the go.
Support for 100+ Languages: Translate content in various languages.
Learn New Languages: Use the app as a tool for language learning.
Use It Offline: Enjoy offline translation capabilities.
Unlimited Text Recognition: Scan as much text as you need.
Talking Translator:
Talking Translator is perfect for users seeking fast translations. It excels in translating sentences from English to Hindi in just one second, making it a speedy and efficient choice. Here's what makes Talking Translator a standout option:
Real-Time Shared View: Collaborate with others using the app's shared view feature.
Translate in 1 Second: Get instant translations in mere seconds.
Language Switching: Easily switch between languages with a single click.
Colorful Interface: Customize the app's appearance with vivid colors.
Support for Multiple Languages: Access translations in various languages.
Conclusion:
Finding the perfect translation app is like finding the right tool for a job. There's no one-size-fits-all answer to which app is the best for English to Hindi translation because it depends on what you need. However, if you're looking for a free app to translate English to Hindi, there are options available. When it comes to getting accurate and reliable translations, Google Translate is a good choice, but there are other apps like Microsoft Translator and DeepL that are also pretty good.