Essay on Indian festivals: India is a country of festivals and culture. Here, people from different regions live peacefully and celebrate their regional festivals with lots of joy and enthusiasm. festivals in India occurs at regular internal of time. If you check the Year 2022 calendar, you will at least 3-4 festivals every month. Here in this post article we have provided essay on Indian festival in 150, 200, 250, 300 word for students.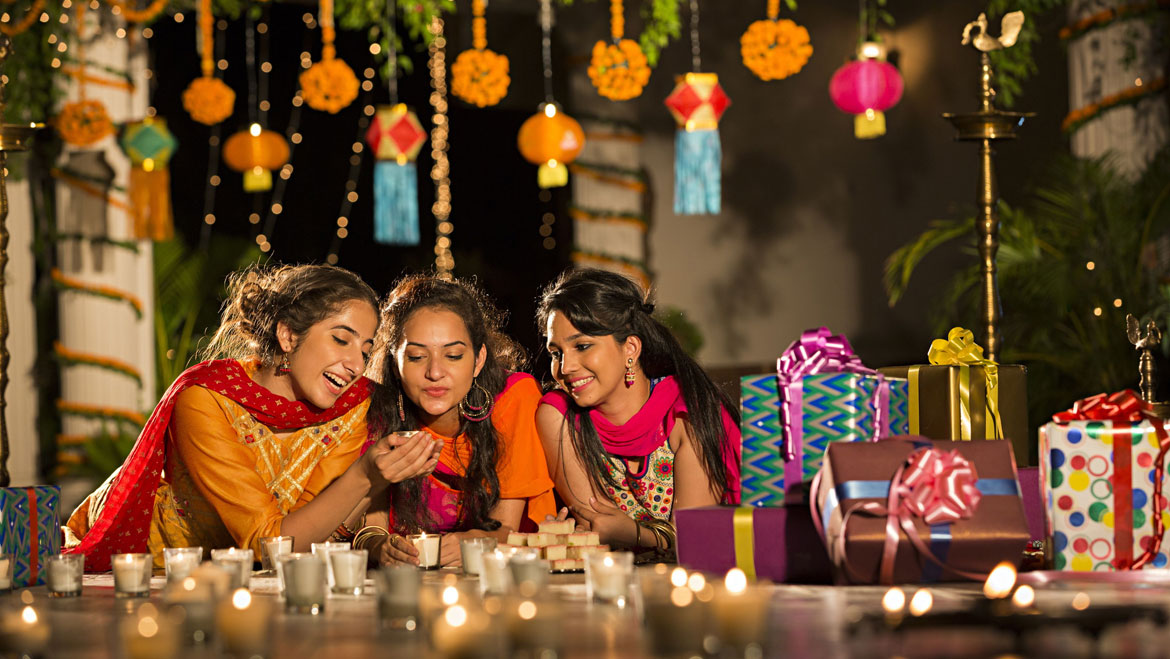 Essay on Indian festivals in English 2022
In each festival, people celebrate with great joy which spreads positivity in the society. Every nation in the world have certain festivals and occasions. However, India is on of the largest countries in the world with largest population. As India as a very cultural and diverse country, so are the regions and festivals. So, Let's check them out one by one.
Importance of festivals in India essay
The importance of all festivals is different for different people. For children, the festival day is a day of celebration, play and food, some people celebrate the festival day with their friends and family and for some it is a day of rest. Many programs like essay competition, poetry writing, speech etc. are organized in schools, colleges, offices on national, religious and seasonal festivals. You can read essays, speeches, poems, messages etc. on major festivals of India from this page of ours. The list of all festivals is given below by clicking on which you can know about those festivals.
Festivals of different religions have their own importance in India. There is also a special reason for celebrating festivals, whether the reason can be religious, cultural or traditional. Indian festivals are mainly divided into three categories.
Religious Festivals
People of Hindu, Muslim, Sikh, Christian and other religions live in India, and all together celebrate festivals. Here as the name suggests, these types of festivals are held according to different religions and their traditions. Among these festivals like Holi, Diwali, Dussehra, Rakshabandhan, Krishna Janmashtami, etc. other festivals are the main festivals of Hindus. Eid-ul-Fitr, Barawafat, Muharram, etc. are the main festivals of Muslims. Festivals like Christmas, Good Friday, Easter belong to Christians. I have discussed some of these festivals below.
Diwali
We also know Diwali or Deepawali as the festival of lights or lights. It is known to be one of the important festivals of Hindus. According to Hindu beliefs, it is said that on this day Lord Ramachandra, along with his wife Sita and brother Lakshmana, came back to Ayodhya after spending 14 years of exile. During the exile, the demon king Ravana had kidnapped Sita by deceit, in this episode Shri Ramchandra killed Ravana and freed Sita from his clutches. The people of Ayodhya had decorated the entire state with lamps in the joy of returning Shri Ram to his kingdom. According to a tradition, the surroundings are lit with diyas and candles to drive away darkness and ignorance. Everyone celebrates this great festival together with great enthusiasm and happiness.
Christmas
This is the biggest and important festival for the people of Christianity. People celebrate it with great enthusiasm and enthusiasm as the birthday of Jesus Christ. On this day the Christmas tree is specially decorated, and prayers are offered in the church. Later people share love and harmony among themselves and also give gifts and congratulations to each other. On this day Santa Claus brings gifts to the children and children are very happy to receive the presents.
Eid-ul-Fitr
It is a big festival mainly of Muslims. It is celebrated after the holy month of Ramadan. On this day children, elders offer Namaz in all the mosques and greet and greet each other. Older children are given gifts in the form of Idi and children are very happy. On this day, vermicelli and different types of dishes are prepared in their homes and everyone invites their friends and relatives for a feast.
National festival
The national festival is celebrated in the memory of the patriotism of the great freedom fighters of our country and their sacrifice towards the nation. Such festivals are celebrated to acknowledge and honor their work and sacrifice. People of all religions celebrate the national festival together.
Gandhi Jayanti
This festival is celebrated every year on 2nd October as the birth ceremony of Mahatma Gandhi. This day is dedicated to the memory of Mahatma Gandhi for his wonderful work and his sacrifice. On the day of Gandhi Jayanti, various programs are organized in all government and non-government organizations to remember his great work and pay tribute to him.
Independence day
Every year on 15th August, the Prime Minister of our country remembers the work and sacrifices done by the freedom fighters towards the country by hoisting the flag at the Red Fort. On this day the Indian flag is also hoisted in all government and non-government organizations and the sacrifice of these great freedom fighters is remembered. Speeches and other functions are also organized in his honor.
Republic day
The Constitution of our country came into force on 26 January 1950, since then it is considered as Republic Day and the freedom fighters of the country and Dr. Bhimrao Ambedkar who wrote the constitution of our country are remembered. Many programs are organized in schools and sweets are distributed among the children.
Seasonal Festivals of India
Any types of seasonal festivals are celebrated in India for the harvesting of crops or change of seasons. Some of these represent traditional and some cultural festivals. Some of which are as follows –
Vasant Panchami
Vasant Panchami is a major festival of Hindus. Usually it happens in the month of February-March. Vasant Panchami is a symbol of the fact that from this day the spring season and the festival of Holi begin. On this day people worship "Maa Saraswati", celebrate this festival with pomp and music.
Pongal / Makar Sankranti
In the northern part of India, January 14 is celebrated as Makar Sankranti and in the southern part of the country it is celebrated as Pongal. On this day, by making a dish of food produced from the new produce and offering it to God, he seeks prosperity and blessings from him. The Sun God is worshiped on this day. Through this festival the Sun is thanked and worshiped. According to tradition, it is also celebrated as the sun entering Uttarayan from Dakshinayana.
Bihu
Bihu festival is celebrated as the harvest festival of the state of Assam. On this day, prayers are offered to God for good yield of crops and after cleaning the houses, tools like plow, hoe, etc., are worshiped by wearing new clothes. In this festival with songs and music, people join hands and distribute gifts and greetings to each other.
Chhath
This festival is mainly celebrated in Bihar, Jharkhand, and Uttar Pradesh. In this festival, the rising and setting sun is worshiped and worshiped. This festival is celebrated for the well being of loved ones in the family. This festival is celebrated every year six days after Diwali.
Conclusion
Among all the festivals celebrated across the world, India is the country with the highest number of festivals. This festival is also a symbol of the cultural and prosperity of the country. In India, people of many religions come together with great pomp to spread their religion, culture and tradition. All these festivals give the message of unity in diversity of our country to the whole world.
Essay on Indian festivals in 250 words
Indians give special importance to their festivals. Every year special arrangements are made for the celebration of various festivals. Be it villages or big cities, there is happiness all around. All the places are decorated during the festive season. Some of the main Indian festivals include Diwali, Holi, Raksha Bandhan, Ganesh Chaturthi, Durga Puja, Dussehra, Pongal and Bhai Dooj.
In our country people like to celebrate festivals with their near and dear ones. Each Indian festival has its own unique way of celebrating and people follow the tradition while celebrating the same festival. However, some things are common, for example people decorate their homes with flowers and lights and wear new clothes during festivals. They visit each other and exchange gifts. Special sweets are prepared at home to treat the guests.
The people of India also have great respect for the national festivals of the country. Gandhi Jayanti, Independence Day and Republic Day are the three national festivals of our country. These festivals are a symbol of unity and progress. They remind us of our patriotic leaders who selflessly served the country. National festivals are celebrated with equal enthusiasm. The whole atmosphere is filled with the feeling of patriotism during these festivals.
All in all, Indians celebrate religious and national festivals with great enthusiasm. Along with children, elders also look forward to festivals.
Essay on Indian festivals in 300 words
Preface :
The festival time in India is awaited by the students especially throughout the year. They look forward to festivals for various reasons. One of the main reasons for this is that schools and colleges remain closed during festivals and it provides a respite from the mundane routine and strict study schedule.
Students also love festivals as it is the time to visit their cousins ​​and relatives who wish them with gifts. In addition, they get to eat lots of delicious sweets and wear new clothes.
Functions in Schools/Colleges:
Festivals in India are celebrated not only at home with family but also in schools and colleges. Educational institutions are decked up with flowers, lights, beautiful posters and colorful curtains during festivals. Students are asked to come dressed in ethnic wear to add to the color of the festival.
Normal classroom sessions are replaced by fun activities these days. Cultural programs and other interesting activities form a part of the festive celebrations in schools and colleges. Students as well as teachers participate wholeheartedly in these activities and the whole atmosphere is filled with joy and laughter.
These celebrations are usually done a day before the festival as it is a holiday on the day of the festival.
Understanding Cultural Origins:
Indian festivals are a reflection of the culture of the country. Celebrations organized on festivals introduce students to the culture and tradition of our country. Each festival has a religious meaning and tradition associated with it. The festival time is a great opportunity for students to understand about the cultural roots of our country and help them connect with it.
Conclusion:
Thus Indian festivals are important to students in more ways than one. It is a great way to build relationships with near and dear ones and learn about the country's rich cultural past.
Search Queries:
essay on Indian festivals in 150 words
essay on Indian festivals in 150 words
essay on Indian festivals in 200 words
essay on Indian festivals in 250 words
importance of festivals in India essay
essay on Indian festivals in 300 words